Fairtrade Gold - Diverse Alloys - Casting Pieces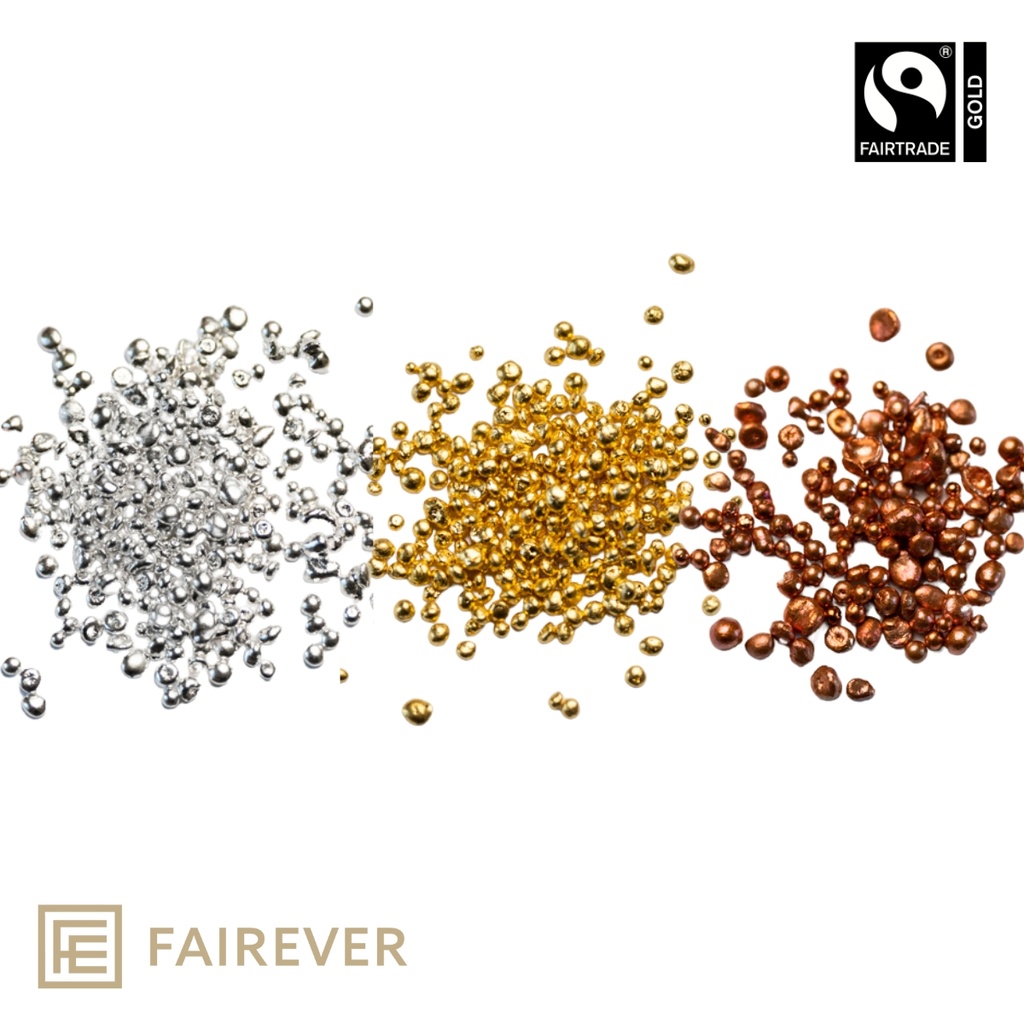 Fairtrade Gold - Diverse Alloys - Casting Pieces
The fine gold contained in this product is certified by Fairtrade Standards.
Graduated prices from 3 grams, 10 grams, 100 grams, 300 grams and 1000 grams.
   THE ECONOMICAL CHOICE WITH ADDED SOCIAL IMPACT   

Closed water systems &
renaturation measures

Safe work conditions &
fair wages

Social premium
2 $/g fine gold

High benefits for
mining communities
Article Description
Specifications

Alloy / Fineness

585 ‰ (14 kt) Red Gold 1 (40 Ag, 374 Cu)

or

585 ‰ (14 kt) Rose Gold 2 (100 Ag, 309 Cu)

or

585 ‰ (14 kt) Rich Yellow Gold 1 (130 Ag, 255 Cu)

or

585 ‰ (14 kt) White Gold 1 (160 Ag, 150 Pd, 79 Cu)

or

750 ‰ (18 kt) Red Gold 2 (40 Ag, 199 Cu)

or

750 ‰ (18 kt) Rose Gold 2 (70 Ag, 169 Cu)

or

750 ‰ (18 kt) Rich Yellow Gold 1 (125 Ag, 119 Cu)

or

750 ‰ (18 kt) Light Yellow Gold 1 (150 Ag, 90 Cu)

or

750 ‰ (18 kt) White Gold 1 (0 Ag, 160 Pd, 63 Cu)

Shape

Casting Pieces (e.g. Wire Cuts)
Sourcing Standard

Certification

The fine gold contained in this product is certified according to the Fairtrade Standard for Gold.

Social Premium

2,000 USD per kilogramm of pure gold (already included in our pricing)

Standard

Fairtrade is a product seal that in addition to many other products also certifies gold and silver from responsible artisanal & small-scale mining organisations. The Fairtrade certification system is secured by independent, accredited auditing organizations such as FLOCERT. You'll find detailed information about the work of Fairtrade, the "Fairtrade Standard for Gold and Associated Precious Metals for Artisanal and Small-Scale Mining" and its benefits for artisanal and small-scale mining organisations at www.fairtrade.net/standard/fairtrade-standards.
Traceability

Origin

Exclusively Fairtrade certified mines — the exact origin will be noted on the product packaging upon delivery
Delivery

Packaging

Ordered precious metals are placed into resealable and recyclable transparent plastic bags. On the product label you'll find all the relevant product details.
ORIGINS
Fair Gold leads our way to a sustainable future.
Whether in the Andes mountain range in Peru or in the lush forests of Colombia, people are connected to their origins.
It is our mission to support them building a safe livelihood, so they can live in an intact environment and community.
Your Dynamic Snippet will be displayed here... This message is displayed because you did not provided both a filter and a template to use.