Fairever and Kalman Hafner: 
New Cooperation for Fairly Traded Precious Metals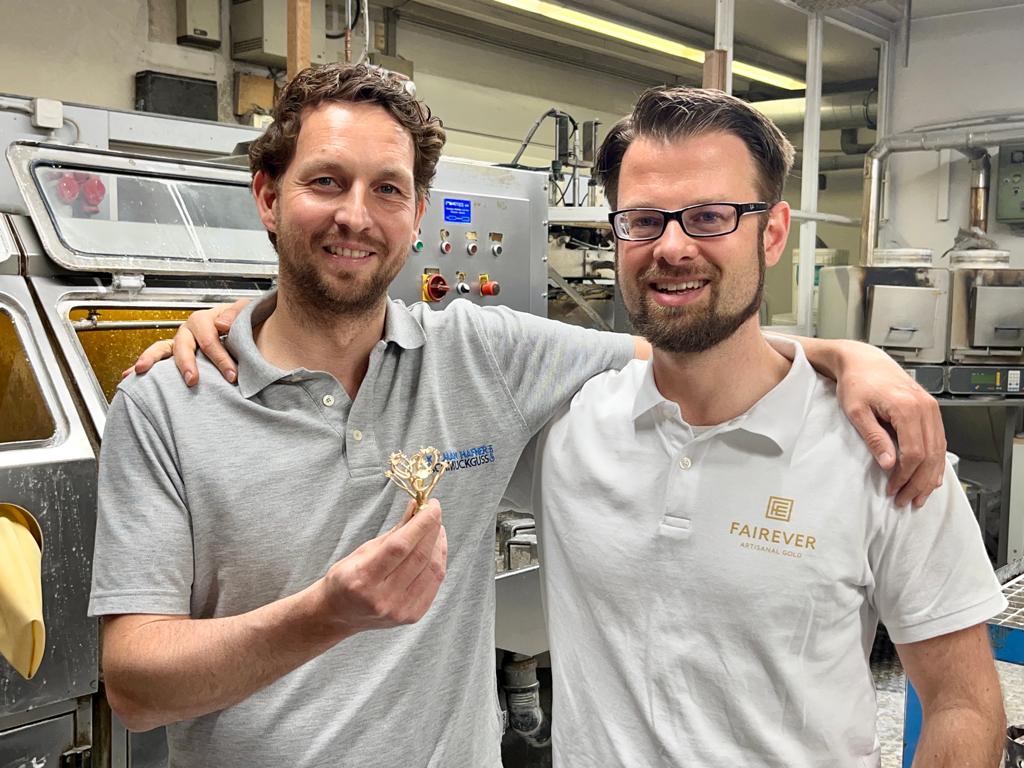 Robin Hafner and Florian Harkort
Kalman Hafner, a long established casting house in Germany, which has clients all over the world, now covers casting services with various alloys of Fairtrade or Fairmined gold. Fairever is supplying them with the fair traded alloys in advance, so it is an easy, one-step ordering process for the clients at Kalman Hafner.
This new offering finally fills a gap and allows jewelry makers to have jewelry pieces professionally casted and manufactured in large quantities, while not making any compromise on the material being used. Large manufacturers are able to switch to a sustainable and ethically responsible production method and take responsibility for the environment and working conditions in gold mining.

"We are very proud of this cooperation with Kalman Hafner," says Florian Harkort, founder of Fairever. "By working together, we can offer a wider range of products for jewelry making and give our community the opportunity to process fairly traded gold in larger quantities. It is an important step in meeting the demand for ethically responsible jewelry and promoting the importance of fair trade in the jewelry industry."

Robin Hafner, the owner of Kalman Hafner, is also enthusiastic about the cooperation and is looking forward to start growing the percentage of fair traded gold being processed in his company. 
Kalman Hafner's Fair Alloy Offer for Casting Services

Fair Gold Alloys being offered in Fairmined Gold and Fairtrade Gold:
585 ‰ Red Gold - 586 Au, 40 Ag, 374 Cu
585 ‰ Rich Yellow Gold - 586 Au, 130 Au, 255 Cu, 29 Zn
585 ‰ White Gold - 586 Au, 160 Ag, 150 Pd, 79 Cu, 25 Zn
750 ‰ Red Gold - 751.5 Au, 40 Ag, 199 Cu, 9.5 Zn
750 ‰ Rich Yellow Gold - 751 Au, 125 Ag, 119 Cu, 5 Zn
750 ‰ White Gold - 752 Au, 130 Pd, 82 Cu, 36 Zn

Fair Silver Alloy being offered in Fairmined Silver and Fairever ASM Silver:
935 ‰ Sterling Silver - 935 Ag, 65 Cu
To inquire about casting services, you can easily contact Kalman Hafner directly:  

Kalman Hafner GmbH
Contact: Martin Ott
mo@kalmanhafner.com
+49 7231 15 444 48
www.kalmanhafner.com